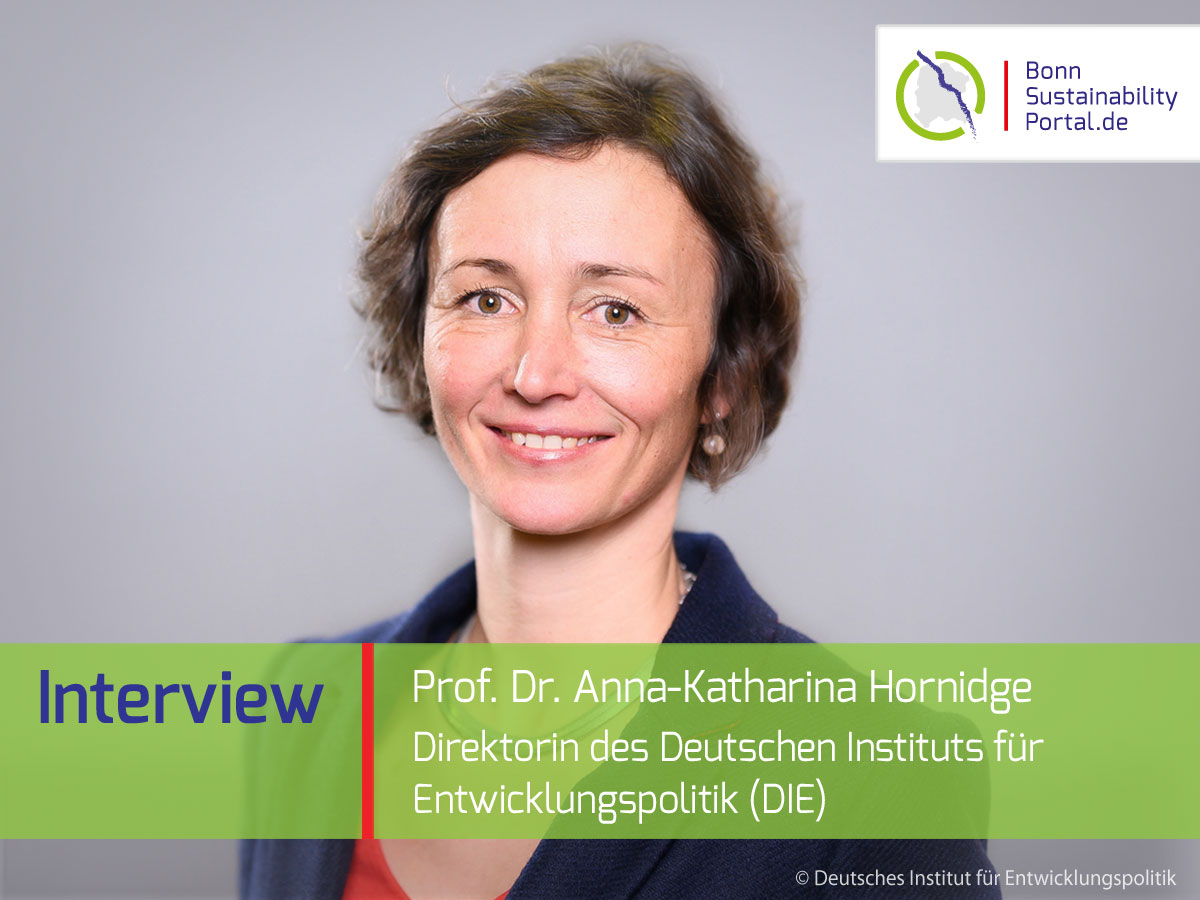 Dear Ms. Hornidge, you are the new Director of the German Development Institute / Deutsches Institut für Entwicklungspolitik (DIE). What are your goals for the future of DIE?
The German Development Institute / Deutsches Institut für Entwicklungspolitik (DIE) conducts research, research-based policy advice and training on issues of international cooperation, development policy, social inequalities and transformations to sustainability. This thematic orientation, as well as the aim to think research, training and research-based policy advice together, is in my view central for addressing global challenges, including the current pandemic. For the future, I see DIE as an institute fill this ambitious mandate even more so than before: from empirically-based fundamental as well as application-oriented research in close cooperation with university and non-university research institutes, training and teaching, to reliable policy advice across different ministerial boundaries.
The freedom and independence of research is key in this and I am looking forward to building further bridges into the academic research and teaching landscape in Germany, Europe and in our partner countries. At the same time, we at DIE want to further expand our activities in the area of policy advice. Politics and science in the 21st century must find ways to jointly – or better: in epistemic friendship – pursue the socially negotiated visions of the future. For this, science and politics have to be in constant dialogue, respect each other's independence, in order to find well-considered, intelligent decisions.
What are your main areas of research, also as part of your professorship for Global Sustainable Development at the University of Bonn?
My own research largely comprises empirical social science and humanities research in developing contexts of Southeast and Central Asia, and increasingly West and East Africa. Thus my expertise revolves around questions, on the one side, about the role of different types of knowledge and innovations for development and social transformation. On the other side, I work on questions of environmental governance, i.e. land and water management in agriculture, fisheries and questions of coastal protection in dealing with rising sea levels and species extinction.
Thematically, these focal points fit well into DIE's profile and I will continue to develop them as part of my professorship for Global Sustainable Development at the University of Bonn. Especially the oceanic focus, my conceptual background in social constructivism and the sociology of knowledge as well as the methodological strength in qualitative, ethnographic development research offer numerous interfaces between interdisciplinary research, policy advice and teaching in cooperation with the University of Bonn.
With your work as Director of DIE and Professor at the University of Bonn, you are at the interface between research, policy advice and teaching. What makes science communication successful for you?
During the Corona crisis we experienced the importance of differentiated, well reflected science communication. Science communication is of crucial relevance in order to allow for research-based political decision-making. Yet, in addition, it is of direct importance for enabling society to understand these decisions, the reasoning for and against them as well as to be able to reflect on them carefully. Good, high-level science communication is thus characterised by generally understandable, precise communication of research questions and carefully analysed research results. The focus has to lie on fostering continuous dialogues with society, i.e. with target groups outside of science.
It is therefore not only the units that are responsible for public relations at research institutions that should actively engage in science communication. Instead it is increasingly important that scientists see themselves as communicators who offer assistances for making sense of the major global change processes that we all perceive on a daily basis. It is then always up to the reader to what extent these assistances are taken up. It is our job as publicly funded scientists to offer them as reflection platforms. Here also social media offers increasing opportunity to engage in direct dialogue with the wider public. This is very suitable, also if not always easy.
What motivates you in the morning and how do you think about it in the evening?
This varies substantially. I am mostly a mother and wife in the morning until I have my first coffee. During this first cup and breakfast conversations with my kids, my identity undergoes a metamorphosis in a way. A look at the Tagesschau-app reminds me of the current state of politics, the calendar-app of the programme of the day. Once the kids leave the house, I have arrived in my professional self.
What motivates me ranges from the content of my work – research, teaching and policy advice on questions of international cooperation, local sustainable development and the role of (non-)scientific knowledges in these – to the exchange with very different types of people, the structured thinking about work processes and decision-making structures and always the challenge of, first of all, not knowing and working out answers in a team. How I think about it in the evening depends on the day itself and on the opportunity to be able to reflect also on the more tenuous aspects of everyday working life with colleagues. If that was not possible, it is my husband who has to listen in the evening.
What question would you like to answer that you have never been asked?
This is not an easy question. But allow me to return to your question about motivation once more, now focusing on the longer-term intrinsic motivations, rather than the everyday, of myself as well as that of my colleagues. Who are today's Directors of institutes that have sustainable development and international cooperation in their mandate? What drives them? A number of interdisciplinary research institutes on questions of sustainable development in the German scientific landscape were founded in the early 1990s, often with reference to the Brundtland report 'Our Common Future' published in 1987 and the reactor accident in Chernobyl on April 26, 1986 as part of their founding documents. The Center for Development Research (ZEF) at the University of Bonn or the Leibniz Center for Tropical Marine Research in Bremen – both institutes I have worked at in the past – are examples of this. DIE was founded earlier, already in 1964, at a time when former colonies became independent and the field of 'development cooperation' established new forms of international cooperation.
All of these institutes gradually pass into the fourth, fifth, sixth generation of institutional leadership. What milestones in the fields of development, foreign and sustainability policy-making characterise this generation? The environmental movement of the 1970s / 80s, the collapse of the Soviet Union, accompanied by massive socio-economic transformation processes in Central Asia, the Caucasus and Eastern Europe, German reunification, the Gulf Wars, 9/11, Afghanistan, or rather climate change, migration movements, global power shifts and the current pandemic? What do these, in part, early influences of today's institutional leaders mean for the German scientific landscape? It is a question that touches on the seriousness of our doing, it regards our partners and allies and our possibilities, our clout, to work together for sustainable development, international cooperation and for a global common good. Perhaps we can speak about this question again in a few years.
The interview was conducted by Yana Adu