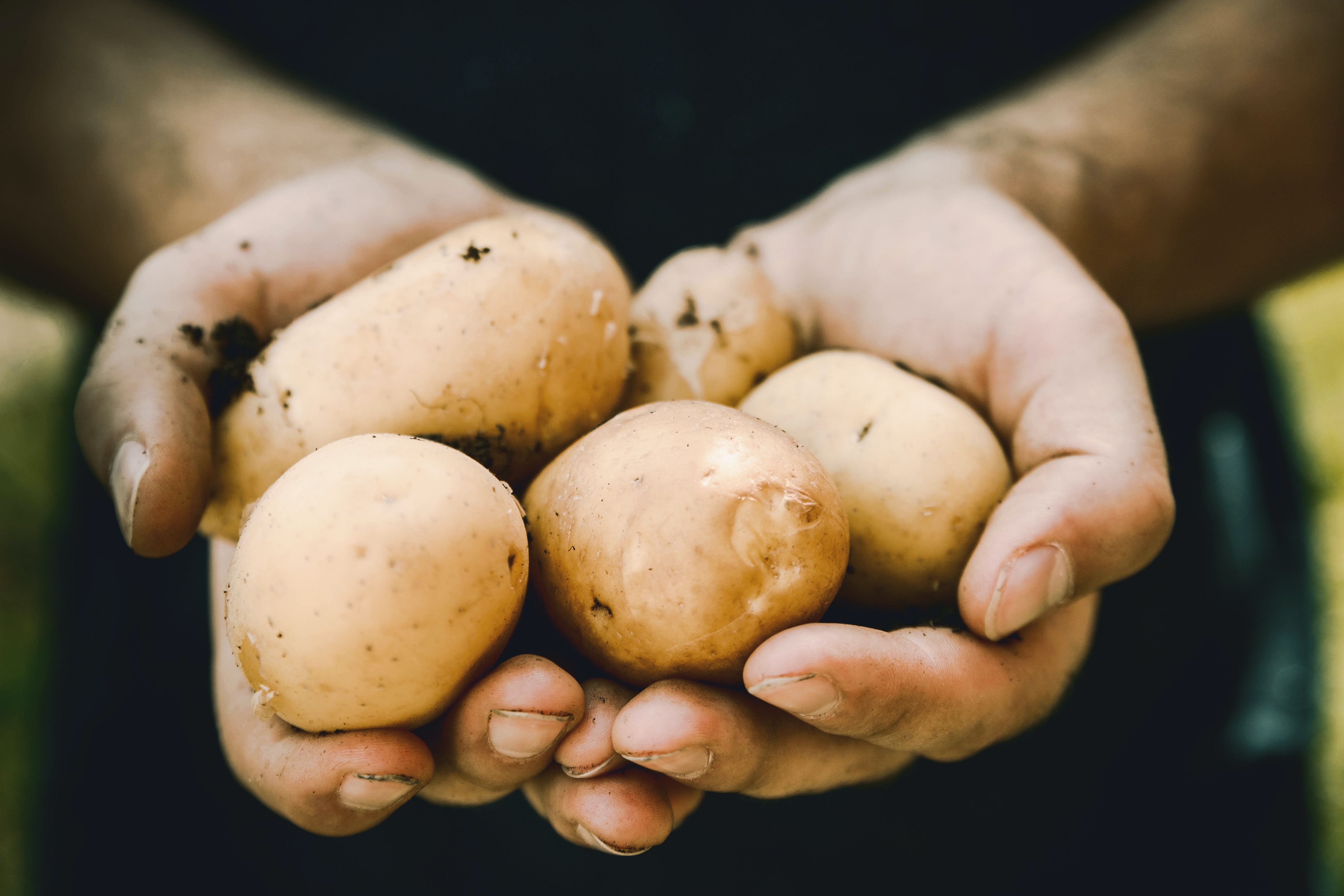 Sensors that monitor product quality, an app for efficient irrigation or generating more value through artificial intelligence – digitalisation is paving the way for a significant leap forward in agriculture. Among other things, it is increasing income levels and improving the quality of agricultural products.
The size is about right and it sits nicely in your hand, but it is certainly not meant to be eaten. The 'intelligent potato' is made of orange plastic, while its inner workings consist of numerous sensors. And sitting in the middle of a mound of real potatoes, it records a non-stop flow of data. It measures moisture, temperature, position and CO2 values. An analysis of this data can benefit traders, for example, when it comes to transporting or storing seed potatoes. If the system indicates that the goods have not been cooled enough or have been cooled too much, the temperature can be adjusted to prevent any decline in quality. 'SolAntenna' is the name of this digital aid from the Dutch company Solentum, and is just one example of how digitalisation in agriculture can help get more value from harvests. The intelligent potato is currently being used in India, where the Deutsche Gesellschaft für Internationale Zusammenarbeit (GIZ) GmbH is working closely with local partners to test the technology in real conditions.
The sensor potato is one of many technological innovations that are changing agriculture around the world. GIZ operates 16 'Green Innovation Centres' worldwide on behalf of the German Federal Ministry for Economic Cooperation and Development (BMZ). The aim is to work with partners in the local area to implement innovations in the agriculture and food sector, with a view to boosting the income of small farms, optimising employee numbers and improving the food supply in the rural regions targeted. The centres are at the heart of BMZ's special initiative 'One World – No Hunger', which promotes local agriculture in partner countries in order to combat hunger and malnutrition. Over a million smallholdings have already benefited from training and advisory services.
Generating more income with systematic irrigation
Another project is being run in North Africa. The Green Innovation Centre in Tunisia has been helping farmers with an intelligent irrigation project since 2019. This involves recording soil, climate and plant data, for example, in an app, which provides information on how much water the soil needs and when. And after just one year, it is evident that the farmers are using water – a scarce resource in these parts – more sparingly and in a more targeted manner. The harvest increased by 15 per cent in the first season, even though the farmers only used half the usual amount of water. A further positive effect is that fewer pesticides and fertilisers were used, which ensured that the harvest delivered higher income levels.
Artificial intelligence for cashews
In a highly competitive market, digital applications are also offering cashew farmers the scope to deliver improvements. Since 2009, the Competitive Cashew Initiative has been helping producers in Western and Southern Africa to grow more and better products. The initiative, coordinated by GIZ, is also experimenting with the use of artificial intelligence, and this is where the GIZ Data Lab comes into play. This proprietary centre is working on ways of using data technologies both fairly and effectively in a development cooperation context.
In the case of the cashew project, the team is using data from growing regions that has been gathered from farmers for project monitoring purposes. Responses from a survey on cashew yields are combined with GPS data recorded on site as well as publicly available satellite images of the fields in question. This information was used to set up an intelligent system, capable of automatic satellite image recognition, and 'train' it with the data available. The system can now automatically identify cashew plantations on new satellite images and determine the yield. And this in turn makes it easier to plan the farming and processing of cashews.
The project is experimental in nature, as only a relatively small data set has been used so far. It does, however, offer great potential in terms of rolling out the idea to other areas and other products. The GIZ Data Lab is exploring the possibility of preparing further data sets from various projects in the region. This will enable further specific applications to emerge, together with new insights on how to develop the technology further.
Source: Deutsche Gesellschaft für Internationale Zusammenarbeit (GIZ) GmbH, 27 June 2020