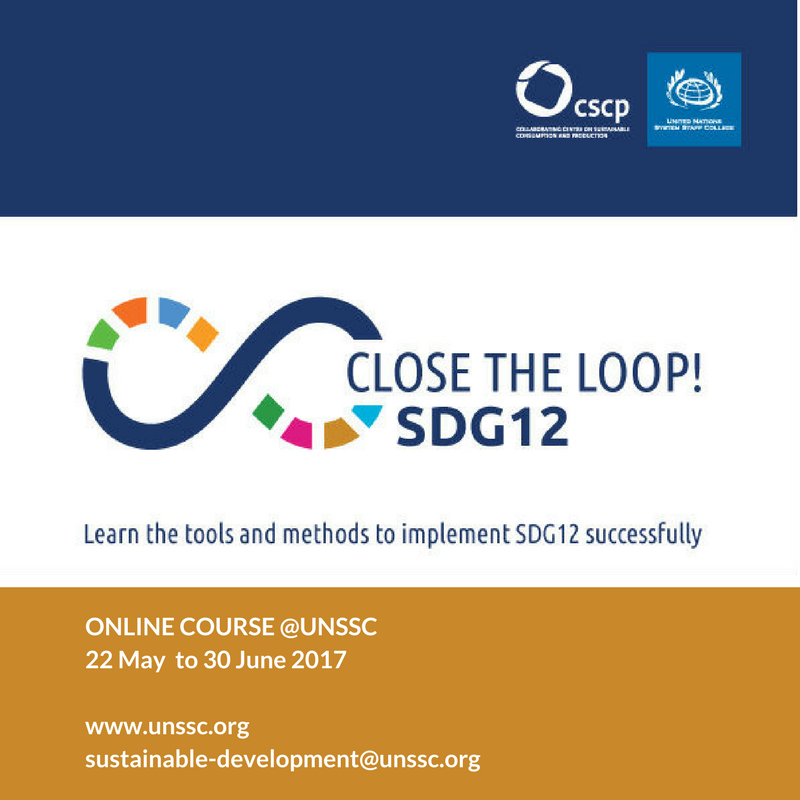 An online course that provides participants with hands-on understanding of sustainable consumption and production and its role as a stand-alone sustainable development goal in the implementation of the 2030 Agenda for Sustainable Development.
Overview
Focused on SDG 12, this online course is designed and delivered in partnership with the Collaborating Centre on Sustainable Consumption and Production (CSCP) – a Think and Do tank that works with businesses, policy makers, partner organizations and civil society towards a sustainable planet. Ensuring sustainable consumption and production patterns is crucial in advancing a sustainable development agenda that is truly universal in its nature and scope. SDG 12 holds a critical position in the broader context of the SDG results framework. With connections with most other goals, SDG 12 has a critical impact on the interrelation between planetary boundaries, increasing demand for energy, food, water and global population dynamics. Through real-life scenarios and live webinars with key experts on the topic, participants will be able to explore and work on key issues related to sustainable consumption and production (SCP) behaviours, circular economy and a sustainable lifestyle.
Learning Objectives
Upon successful completion of this course, participants will:
Be able to identify the key elements of Sustainable Consumption and Production and their relevance for Sustainable Development.
Be able to analyse production and consumption practices that offer relevant insights for action planning.
Understand the relevance of sustainable business models and lifestyles for the overall SDG agenda.
Be aware of different tools and indicators developed through partnerships towards SCP.
Be able to relate concrete actions to the targets of SDG 12.
Methodology
In contrast to the less collaborative format of traditional Massive Open Online Courses (MOOCs), UNSSC online courses combine tutored components with synchronous and asynchronous activities, comprising approximately two hours of knowledge acquisition, two hours of knowledge application to real-life and training scenarios, as well as group work and collaboration with peers. In addition to engaging in self-paced learning, participants in UNSSC online courses also benefit from live webinars with renowned experts on sustainable consumption and production, allowing real-time virtual interaction between the instructors and participants.
The instructor-led webinars for this course will take place every week between 2:00 pm – 4:00 pm CET or 8 am – 10 am EST.  These live sessions are conducted on the WebEx platform with toll and toll-free numbers and/or ability to connect via the internet for the audio component; no special software is required.
Contents
This 6-week course brings together theory with hands-on examples and is designed with gamification elements of "serious fun" in order to enhance an experiential learning process. These elements comprise individual access to information, reflection, team-work and creative problem-solving. The components of the course are denominated as "loops" as they represent the graphic visualization of SDG 12 as well as the interconnectedness between all the elements comprising this topic.
Content Loops:
Loop 1 (weeks 1 and 2): Understanding Sustainable Consumption and Production
Loop 2 (weeks 3 and 4): Sustainable Consumption and Production in practice
Loop 3 (weeks 5 and 6): Sustainable Consumption and Production as a SDG
Target Audience
UN staff and development practitioners.
Cost of Participation
The course fee of 1,250 USD covers the following:
Unlimited access to course materials (video and key readings), recording of webinars and speakers' presentations.
Participation in live webinars with renowned experts on sustainable consumption and production.
Exposure to peer-to-peer learning process through group work and online asynchronous activities.
Exclusive access to our online learning platform with training and supporting background materials, and the opportunity to stay connected with colleagues.
Certificates of Participation will be awarded to participants, subject to completion of all modules and quizzes, successful submission of exercises and assignments, and full participation in all live online sessions and discussion forums for each topic covered in the course.
Date and Venue
22 May to 30 June 2017, Online.
Registration
For more information and to register, please go to http://bit.ly/SDG12Loop.  Deadline for registration is 15 May. For questions, please email sustainable-development@unssc.org.
Source: Notification UNSSC, 10.04.2017