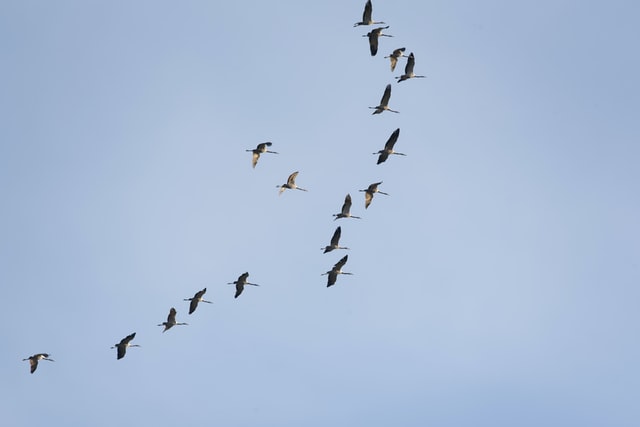 "Sing, Fly, Soar – Like a Bird!" is the theme of this year's World Migratory Bird Day, an annual global campaign dedicated to raising awareness of migratory birds and the need for international cooperation to conserve them.
This year the campaign will focus on the phenomena of "bird song" and "bird flight" as a way to inspire and connect people of all ages around the world in their shared desire to celebrate migratory birds and to unite in a common, global effort to protect birds and the habitats they need to survive.
The 2021 World Migratory Bird Day theme is an invitation to people everywhere to connect and re-connect with nature by actively listening to – and watching birds – wherever they are. At the same time the theme appeals to people around the world to use their own voices and creativity to express their shared appreciation of birds and nature.
Birds can be found everywhere: in cities and in the countryside; in parks and backyards, in forests and mountains, and in wetlands and along the shores. They connect all these habitats and they connect us, reminding us of our own connection to the planet, the environment, wildlife and each other. Through their seasonal movements, migratory birds are also regularly reminding us of nature's cycles.
As global ambassadors of nature, migratory birds not only connect different places across the planet, they also re-connect people to nature and to themselves like no other animals on the planet.
In fact, billions of migratory birds have continued to sing, fly and soar between their breeding and non-breeding sites. During the pandemic, which slowed down many activities by limiting our movements, people across the world have been listening to and watching birds like never before. For many people around the world, bird song has also been a source of comfort and joy during the pandemic, connecting people to each other and to nature as they remain in place.
Scientists around the world have also been studying the impact the pandemic is having on birds and other wildlife, looking at how "the anthropause" – the so-called global shutdown in human activity resulting from the COVID-19 pandemic – has effected birds and other wildlife around the world. At the same time, scientists have also been looking at the positive health benefits of birds and nature on humans.
Clearly, the pandemic has been an unprecedented challenge for humankind. At the same time, it has also brought a whole new level of awareness and appreciation of birds and the importance of nature for our own well-being.
World Migratory Bird Day 2021 is therefore not only a celebration of birds, it is also an important moment to reflect on our own global relationship with nature and to highlight our collective desire to do more to protect birds and nature in a post-pandemic world.
World Migratory Bird Day is organized by a collaborative partnership among two UN treaties -the Convention on Migratory Species (CMS) and the African-Eurasian Migratory Waterbird Agreement (AEWA) -and the non-profit organization, Environment for the Americas (EFTA). The 2021 campaign is also actively being supported by the East Asian-Australasian Flyway Partnership (EAAFP) Secretariat and a growing number of other dedicated organisations.
Celebrated across the world on two peak days each year– on the second Saturday in May and second Saturday in October – World Migratory Bird Day is the only international awareness-raising and education program that celebrates the migration of bird species along all the major flyways of the world.
To learn more please visit: www.worldmigratorybirdday.org
Source: UN Bonn, 16 April 2021