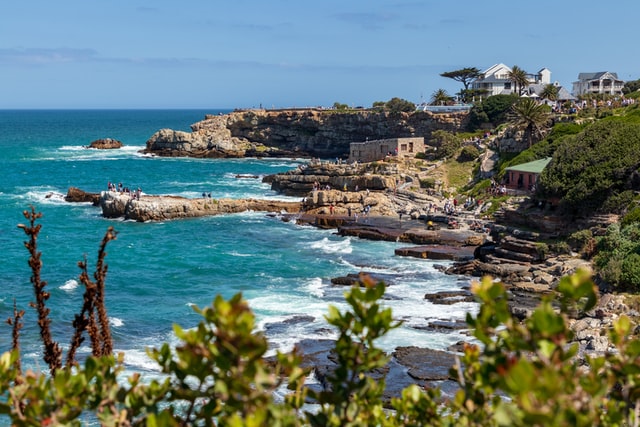 [:en]
Developing infrastructure fit for the future while simultaneously achieving climate goals? With green bonds, that is possible. Green bonds are an important instrument for financing environmentally friendly projects. In South Africa, a cooperation with the United Nations Environment Programme is showing how climate protection, fighting poverty and growth can go hand in hand.
Value for money, climate change mitigation and social inclusion are not necessarily contradictory, but can mutually reinforce one other. The green economy concept shows that large sections of the population can benefit from climate change mitigation measures. South Africa has been pursuing this approach for nearly ten years and is considered internationally to be a pioneer. In particular, financing is an essential aspect: The Government of South Africa wants to make greater use of green bonds as a means of attracting capital for sustainable investments.
In this process, the Deutsche Gesellschaft für Internationale Zusammenarbeit (GIZ) GmbH is supporting the country, together with the United Nations Environment Programme (UNEP). UNEP, GIZ and their South African partners are also cooperating in promoting green jobs and the circular economy. UNEP's global knowledge and the practical experience gained by GIZ in its projects around the world feed into this work at national level.
Sustainable infrastructure projects receive funding
UNEP and GIZ have been cooperating since 2019 on a project for green economic reform in South Africa, building on proven partnerships. The project is funded by the Internationalen Klimaschutzinitiative (IKI) dof the German Federal Ministry for the Environment, Nature Conversation and Nuclear Safety (BMU). As a driving force for environmental protection globally, UNEP has the ear of national governments and it works together with various UN organisations to pool expertise across sectors and offer it from a single source. Thanks to its many years working in the country, GIZ has a large network and cooperates with local partners on the ground. One such partner is Dr Jenitha Badul from the South African Ministry of Environment, Forestry and Fisheries (DEFF), who has been working in the green economy for many years. South Africa benefits from its cooperation with GIZ and UNEP, above all through advisory services that are supporting the country on the path to a sustainable economy. As Dr Badul explains, 'The green economy interventions are also cognizant of advancing MSMEs, gender equality and youth development and the scope for new and emerging markets through relevant GE interventions.'
Green bonds allow local authorities to develop green, low-carbon infrastructures on a large scale and to strengthen the country's economy at the same time, by attracting external investment. This is an advantage, especially in times of crisis, such as the current coronavirus pandemic. As green bonds provide funding for public projects, the state and local authorities have more resources left over to invest in economic recovery measures and in addressing pertinent issues related to the company's developmental agenda.
Fighting poverty
In South Africa, there is already such a strong interest in green bonds that, together with UNEP, GIZ has been able to attract another United Nations programme as a partner: "Poverty Environment Action"
(PEA). This is a cooperation arrangement between UNEP and the United Nations Development Programme (UNDP), which combines poverty reduction and environmental protection measures. PEA provides additional financial and technical support to the South African Ministry of Environment, as well as to the cities of Durban (Ethekwini Municipality) and Pretoria (City of Tshwane). The partners in the programme are developing a manual on green bonds for South Africa's cities and providing training for municipal employees.
The successful cooperation in South Africa could, in the future, serve as a model for other countries. For example, GIZ, PEA and UNEP are planning exchanges between South Africa and Indonesia to promote sustainable financing. It is the ideal moment to do so: South Africa has prepared a taxonomy catalogue for green bonds, which is to be published in early 2021. Indonesia already has many years of experience with green bonds. As such, South Africa has the opportunity to learn from Indonesia and in so doing, benefit through the partnership.
Green Economy provides solutions for the challenges in the 21st century
GIZ and UNEP have been working together successfully since 2011. Back then, the green economy was little more than a written concept. Today, UNEP advises countries all around the world on this subject, as part of the UN's alliance for sustainable economy, the Partnership for Action on Green Economy (PAGE). It is also implementing projects together with GIZ. But what is it that distinguishes the cooperation between the two organisations? We asked Steven Stone, Head of the Resources and Markets branch at UNEP, and Vera Scholz, Director of GIZ's Climate Change, Environment, Infrastructure Division.
1.) Where do things stand today with the concept of the green economy, both in individual countries and in international cooperation?
Steven Stone: The green economy concept has come a long way. In the wake of the 2008 financial crisis, UNEP published a paper called the Global Green New Deal, which made a case for enhancing economic recovery and creating jobs with green stimulus packages. Since the Rio+20 conference in 2012, countries across the globe have adopted the concept at national level. The  PAGE initiative, founded by UNEP, now supports 20 countries. The ("Green Growth Knowledge Partnership") Green Growth Knowledge Partnership is an important platform for the green economy. It connects knowledge and experts all around the world. Twelve years later, the concept has not lost its appeal. The EU's Green Deal and the current debates on green recovery packages to overcome the COVID-19 crisis show that a green economy is well positioned to provide policy solutions to the challenges we face in the 21st century.
2.) What role does international exchange with other partners play for GIZ and UNEP in this process?
Vera Scholz: The exchange is essential, for example, with regards to green financial policy, which is an important building block for the green economy. This entails states using their public revenues and expenditure as a lever for change, for instance applying environmental reforms in taxation and subsidies. To this end, together with the International Monetary Fund, GIZ and UNEP set up the Green Fiscal Policy Network in 2014 to encourage international exchanges in this area.
3.) How do UNEP and GIZ complement one another and what are the advantages of your cooperation in this project?
Steven Stone: The joint GIZ-UNEP Green Economy Transformation project combines the strengths of both organisations – GIZ's strong country presence and close working relationships with governments, and UNEP's convening power and normative voice on the environment. Since the start of the collaboration in 2011, we have been building great synergies.
Vera Scholz: An important point, which benefits GIZ, in this cooperation is that we work very closely with our partner project on the ground. This means we enjoy great proximity to those partners and we can provide complementary support.
4.) What are the next steps for the Green Economy Transformation project? To what extent can other countries learn from the experience in South Africa?
Vera Scholz: We will continue to develop our cooperation with UNEP and the other UN partners in PAGE. In South Africa, we are already working with UNEP and the International Labour Organization to promote a dialogue process to counter youth unemployment with targeted economic stimulus measures.
Steven Stone: The important thing to note is that transitioning to a green economy and achieving the Sustainable Development Goals will require investments that benefit the environment, society and the private sector alike. Stretched public budgets, especially after the COVID-19 stimulus packages, can benefit from innovative sustainable finance mechanisms that leverage private sector investments. South Africa has already been issuing several municipal green bonds. Such kinds of experiences are inspiring for other countries that look into similar mechanisms. UNEP has an important role as a multiplier to support this exchange of knowledge.
Source: Deutsche Gesellschaft für Internationale Zusammenarbeit (GIZ), November 2020[:de]
Zukunftsfähige Infrastruktur aufbauen und gleichzeitig Klimaziele erreichen? Durch "Green Bonds" kann dies gelingen. Die grünen Anleihen sind ein wichtiges Instrument, um umweltfreundliche Projekte zu finanzieren. Eine Kooperation mit dem Umweltprogramm der Vereinten Nationen in Südafrika macht vor, wie Klimaschutz, Armutsbekämpfung und Wachstum zusammengehen.
Wirtschaftlichkeit, Klimaschutz und soziale Inklusion müssen kein Widerspruch sein, sondern können sich gegenseitig ergänzen: Das Konzept der "Green Economy" zeigt, dass weite Teile der Bevölkerung vom Klimaschutz profitieren können. Südafrika verfolgt diesen Ansatz seit knapp zehn Jahren und gilt international als Vorreiter. Besonders die Finanzierung ist ein wesentlicher Punkt: Die Regierung Südafrikas will verstärkt auf grüne Anleihen setzen, um Kapital für nachhaltige Investitionen zu gewinnen.
Die Deutsche Gesellschaft für Internationale Zusammenarbeit (GIZ) GmbH unterstützt das Land dabei zusammen mit dem Umweltprogramm der Vereinten Nationen (United Nations Environment Programme, UNEP). GIZ, UNEP und südafrikanische Partner kooperieren auch bei der Förderung von grünen Arbeitsplätzen und Kreislaufwirtschaft. Globales Wissen der Vereinten Nationen und praktische Erfahrungen der GIZ aus weltweiten Projekten fließen dort in die nationale Arbeit ein.
Nachhaltige Infrastrukturprojekte erhalten Finanzierung
Seit 2019 kooperieren UNEP und die GIZ in einem Vorhaben zu grünen Wirtschaftsreformen in Südafrika und greifen dafür auf bewährte Partnerschaften zurück. Das Projekt wird von der Internationalen Klimaschutzinitiative (IKI) des Bundesumweltministeriums (BMU) finanziert. Als treibende Kraft im globalen Umweltschutz verschafft sich UNEP bei Regierungen Gehör und arbeitet mit verschiedenen UN-Organisationen zusammen, um Expertise bereichsübergreifend zu bündeln und aus einer Hand anzubieten. Durch ihr langjähriges Engagement im Land verfügt die GIZ über ein großes Netzwerk und kooperiert mit lokalen Partnern vor Ort. Dazu gehört auch Dr. Jenitha Badul vom südafrikanischen Umweltministerium DEFF, die sich seit Jahren für die "Green Economy" einsetzt. Südafrika profitiert durch die Zusammenarbeit mit der GIZ und UNEP vor allem von den Beratungsleistungen, die das Land auf dem Weg zu einer nachhaltigen Wirtschaft begleiten. Dr. Badul erklärt hierzu: "Die Maßnahmen zur 'Green Economy' zielen auch darauf ab, kleinste, kleine und mittlere Unternehmen sowie die Jugend zu fördern, Geschlechtergleichheit herzustellen und neue Märkte zu erschließen."
Die Einnahmen aus den "Green Bonds" ermöglichen den Kommunen, im großen Maßstab grüne und klimafreundliche Infrastruktur zu bauen und zugleich die Wirtschaft im Land zu stärken, indem sie externe Investitionen anziehen. Dies ist gerade in Krisenzeiten, wie aktuell bedingt durch die Corona-Pandemie, ein Vorteil. Da grüne Anleihen Gelder für öffentliche Vorhaben zur Verfügung stellen, haben Staat und Kommunen mehr Ressourcen, die sie für Maßnahmen zur wirtschaftlichen Erholung sowie relevante Themen der Entwicklungsagenda nutzen können.
In Südafrika ist das Interesse an grünen Anleihen bereits so groß, dass die GIZ zusammen mit UNEP ein weiteres Programm der Vereinten Nationen als Partner gewinnen konnte: "Poverty Environment Action" (PEA) ist eine Kooperation von UNEP und dem Entwicklungsprogramm der Vereinten Nationen (UNDP) und verbindet Armutsbekämpfung mit Umweltschutz. PEA bietet zusätzliche finanzielle und fachliche Unterstützung für das südafrikanische Umweltministerium sowie die Städte Durban (Ethekwini Municipality) und Pretoria (City of Tshwane). Die Beteiligten erarbeiten ein Handbuch über grüne Anleihen für südafrikanische Städte und bieten Weiterbildungen für die kommunalen Angestellten.
Die erfolgreiche Kooperation in Südafrika könnte künftig als Vorbild für andere Länder dienen. Die GIZ, PEA und UNEP planen zum Beispiel den Austausch zwischen Südafrika und Indonesien mit Blick auf nachhaltige Finanzierung. Der Zeitpunkt ist optimal: Südafrika hat einen Kriterienkatalog (Taxonomie) für "Green Bonds" erstellt, der Anfang 2021 veröffentlicht werden. Indonesien hat bereits langjährige Erfahrungen mit grünen Anleihen. So kann Südafrika von Indonesien bei der Umsetzung des Katalogs lernen und dadurch von der Partnerschaft profitieren.
Green Economy liefert Lösungen für die Herausforderungen des 21. Jahrhunderts
Seit 2011 arbeiten GIZ und UNEP erfolgreich zusammen. Damals war die "Green Economy" kaum mehr als ein Konzept auf dem Papier. Mittlerweile berät UNEP im Rahmen der UN-Allianz für nachhaltigere Wirtschaft ("Partnership for Action on Green Economy", PAGE) Länder auf der ganzen Welt zu dem Thema und setzt mit der GIZ Projekte um. Doch was zeichnet die Kooperation der beiden Organisationen aus? Darauf antworten Steven Stone, Abteilungsleiter Ressourcen und Märkte bei UNEP, und Vera Scholz, Abteilungsleiterin Klima, Umwelt, Infrastruktur bei der GIZ.
1.) Wo steht das Konzept der "Green Economy" heute, sowohl in den Ländern als in der internationalen Zusammenarbeit?
Steven Stone: Das Konzept hat einen langen Weg hinter sich: Nach der Finanzkrise 2008 hat UNEP ein Konzeptpapier namens "Global Green New Deal" veröffentlicht. Dieses empfahl grüne Konjunkturpakete für Wirtschaftsaufschwung und Arbeitsplätze.
Seit der Rio+20 Konferenz 2012 übernehmen Länder auf der ganzen Welt das Konzept auf nationaler Ebene. Die von UNEP gegründete PAGE-Initiative unterstützt inzwischen 20 Länder. Für die "Green Economy" ist die globale Wissensplattform ("Green Growth Knowledge Partnership") wichtig. Sie verbindet Wissen und Experten auf der ganzen Welt. Auch nach 12 Jahren hat das Konzept seinen Reiz nicht verloren. Der "Green Deal" der Europäischen Union und die derzeitigen Debatten über grüne Maßnahmen zur wirtschaftlichen Erholung von der COVID-19-Krise zeigen: Die Green Economy kann politische Lösungen für die Herausforderungen des 21. Jahrhunderts liefern.
2.) Welche Rolle spielt der internationale Austausch mit anderen Partnern dabei für die GIZ und UNEP?
Vera Scholz: Der Austausch ist essenziell. Zum Beispiel mit Blick auf grüne Finanzpolitik, die ein wichtiger Baustein der "Green Economy" ist. Es geht darum, dass Staaten ihre öffentlichen Einnahmen und Ausgaben als Hebel für den Wandel einsetzen, etwa durch eine ökologische Steuer- und Subventionsreform. GIZ und UNEP haben deshalb 2014 zusammen mit dem Internationalen Währungsfonds das Netzwerk für grüne Finanzpolitik (Green Fiscal Policy Network) gegründet, um international Erfahrungen zu diesem Thema auszutauschen.
3.) Wie ergänzen sich UNEP und GIZ und welche Vorteile entstehen aus der Zusammenarbeit?
Steven Stone: Das gemeinsame Projekt "Green Economy Transformation" verbindet die Stärken beider Organisationen: die starke Länderpräsenz sowie enge Arbeitsbeziehungen mit Regierungen auf Seiten der GIZ. Dazu kommen UNEPs Stärke, Partner an einen Tisch zu bringen und als führende Stimme internationale Umweltthemen zu gestalten. Seit dem Beginn der Zusammenarbeit im Jahr 2011 haben wir hervorragende Synergien erzeugt.
Vera Scholz: Ein wichtiger Punkt und Vorteil der GIZ in dieser Kooperation ist, dass wir sehr eng mit unserem Partnerprojekt vor Ort zusammenarbeiten. Dadurch ist die Partnernähe stark. Und wir können komplementär unterstützen.
4.) Was sind die nächsten Schritte im Projekt "Green Economy Transformation"? Inwieweit können andere Länder von den Erfahrungen in Südafrika lernen?
Vera Scholz: Wir werden unsere Kooperation mit UNEP und anderen UN-Partnern von PAGE weiter ausbauen. In Südafrika arbeiten wir beispielsweise mit UNEP und der Internationalen Arbeitsorganisation (ILO) an einem Dialogprozess, um Jugendarbeitslosigkeit mit gezielten nachhaltigen Konjunkturmaßnahmen zu bekämpfen.
Steven Stone: Wichtig ist: Der Wandel zur "Green Economy" und die Erreichung der UN-Nachhaltigkeitsziele erfordern Investitionen, die der Umwelt, Gesellschaft und Wirtschaft gleichzeitig nutzen. Öffentliche Budgets sind vielerorts durch Covid-19-Maßnahmen erschöpft und benötigen daher innovative Finanzierungsmöglichkeiten, die Investitionen aus der Privatwirtschaft anregen. Südafrika hat bereits mehrere kommunale grüne Anleihen ausgegeben. Diese Erfahrungen inspirieren auch andere Länder, die sich ähnliche Verfahren ansehen. UNEP übernimmt hier eine wichtige Multiplikatoren-Rolle, um diesen Wissensaustausch zu fördern.
Quelle: Deutsche Gesellschaft für Internationale Zusammenarbeit (GIZ), November 2020[:]