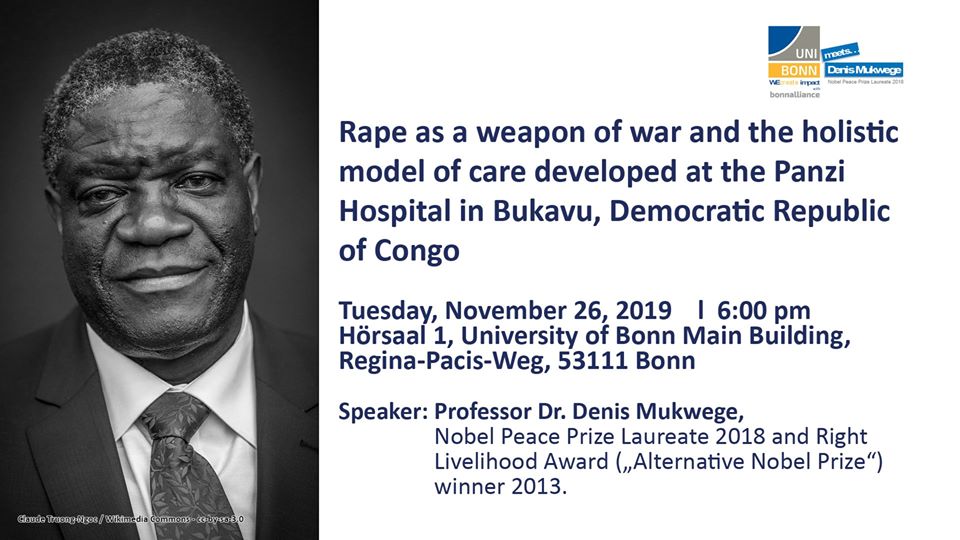 On the occasion of the International Day to End Violence against Women, we have the honor to announce a talk by Professor Dr. Denis Mukwege, Nobel Peace Prize Laureate 2018 and Right Livelihood Award ("Alternative Nobel Prize") winner 2013, on the topic of:
"Rape as a weapon of war and the holistic model of care developed at the Panzi Hospital in Bukavu, Democratic Republic of Congo"
Date and time: 26 November 2019, 6:00 pm
Location: Hörsaal 1, University of Bonn Main Building, Regina-Pacis-Weg, 53111 Bonn (see map attached).
Background
In the Democratic Republic of Congo, sexualized violence against women is used as a weapon of war to destroy the social cohesion of families and society. Violence is driven by the struggle for raw materials which are, for example, used for the production of mobile phones and batteries. Denis Mukwege is committed to the health and rights of women in Congo. Over the past 20 years, he has treated at Panzi Hospital in Bukavu tens of thousands of girls and women who have been raped brutally. The gynaecologist and human rights activist together with his team are not only providing medical care to women and girls, but also helping them overcome their psychological traumas and finding their way back to everyday life. But "complete healing is only possible if people also experience justice" says Denis Mukwege.
The lecture will be given in French and translated into English. Entrance is free. Please be in time!
The lecture is part of the series "Uni Bonn meets…", an event series initiated and organized by the Rectorate of the University of Bonn.
Source: University of Bonn, November 2019